As a supplier, we support commercialize products based on the plans and designs of manufacturers, we have increased production capacity specializing in molded urethane chairs.
Visiting the international furniture trade fair `` Milan Salone 2019 '' visited in April 2019 from the desire to expand the possibilities of molded urethane chairs and the factory of Italian furniture brands, advanced ideas of super first-class brands, In addition to receiving a huge cultural shock in creating the design and marketing system, the tour strongly felt that the Japanese commercial furniture industry should become stronger.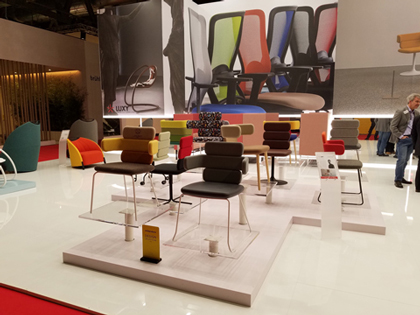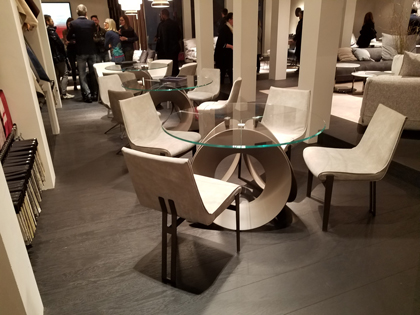 Molded urethane chairs can be made with free ideas that are not constrained by conventional design constraints, and may greatly contribute to the future development of the Japanese furniture industry. However, for molded urethane chairs, it was necessary to make molds first, so it was necessary to spend a lot of time in the planning and design stages.
In the future, in order for "design furniture from Japan" to enhance its ability to communicate in the world, our role as a supplier that does not develop its own brand products is to quickly implement and quickly implement the planning and design of manufacturers. We regard it as "lightness of footwork".
In particular, in the prototype development process, which is a bottleneck, we have set up production facilities such as a 3D printer and robot arm to shorten the prototype / correction process.
※Please see the FACILITY page for our facilities.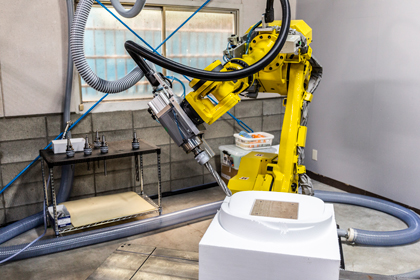 Establishing a management system based on 3D data for these production facilities and design materials will greatly shorten the product development process, shortening the process from prototype to master model completion, which previously took several months, to 30 days at the shortest. Made possible.
"More free design"
"More attractive products"
Please feel free to consult us about the design you think is a little difficult to realize. In order to fight as a global brand, we will continue to strive to respond to the wishes of manufacturers.